Wayne Gretzky, Bill and Hillary Clinton as Grandparents: Numerology of Famous Parents, Grandparents, Babies, and Babies in the Becoming
Submitted by

Cassandra MacLeane

on Fri, 2014-10-10 17:17
Could 'the Great One' actually be becoming a grandfather? Where did the time go?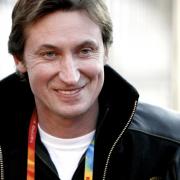 Wayne Gretzky's daughter Paulina has announced that she and Dustin Johnson are expecting a child. Paulina has a number 3 Life Path, while Dustin is a complex and powerful 5 Life Path person under the influence of master number 22.
Paulina will be in a 3/4 Cycle Year when the child is born. Her fiancé will be in a 9/4 Cycle Year. Put simply, 2015 will bring changes and decisions, as well as many tests for both of them.
It will be challenging. Dustin was born under an extremely powerful influence: 5 with a 22 birthday. This can bring great talent and great gifts to the world, or, the person bearing this enormous and complicated life path can go in the opposite direction.
Next year is a pivotal year for Dustin, especially since he will be at the end of a nine-year cycle of life, and because he and Paulina will both have emotional 4 inner life cycle, which always brings more than usual complexity.
The good news is the impending emergence of a new member of the family.
The other news is that all of them, including the dear 'Great One' will be under a great deal of pressure, cycle wise.
Wayne Gretzky, who is an interesting and mysterious 7 under the influence of 7, will be in a 7/5 Cycle Year in 2015.
Creative – yes – introspective – definitely.
The Clintons
The Clintons have good reason to celebrate. Chelsea Clinton, a 2 Life Path person, has given birth to a little 6 Life Path child named Charlotte. Charlotte shares her 6 Life Path—which tends to be home-loving, family-oriented, and filled with creative energy—with her dad, Marc Mezvinsky, who is also an affectionate home-loving 6 Life Path person.
Obviously this wasn't planned by a numerologist, but the compatibility of this family could not be better if one had been consulted. They're all perfect for each other.
In 2015 Chelsea begins a brand new 9 Cycle Chapter of life. This is a great time for starting a new family. Marc may have a bit more of an adjustment, as he will be in an 8/5 Cycle Year, which is always very focused on career life.
The grandparents—Hillary and Bill Clinton—have both been in 7 Cycle Years this year. Hillary's Cycle Year, a 7/6, represents a perfect time for grandmotherhood, and a thorough re-evaluation of life.
In case you haven't noticed, Hillary seems already to have re-evaluated her style: she's wearing shorter hair, and a new style of pantsuit.
This often happens in a 7 cycle. I think it looks wonderful on her.
Bill has also been in a 7 Cycle Year, but his inner cycle in 2014 has been and is an 8. Next year he will be in an 8/9 cycle. These two years are very much about career.
Hillary's career?
Probably.