What's in Store for the Vancouver Canucks in 2015: Numerology Analyzed
Submitted by

Cassandra MacLeane

on Mon, 2015-01-05 11:16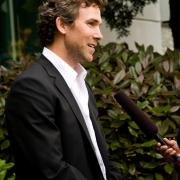 Trevor Linden is back where he belongs: with the Vancouver Canucks.
Things should start to look up for the Vancouver Canucks hockey team in this new Cycle Year.
They find themselves in the hands of a true lover of Vancouver and the Canucks: Trevor Linden.
The Year Ahead for Trevor Linden
Trevor Linden was born April 11, 1970. He is a 5 Life Path person under the influence of 11. In 2015 he is in an exciting and unpredictable 5/7 Cycle Year. These Cycle Years are marked by potential for growth—which is wonderful, but doesn't always proceed according to plan.
Trevor came back to his true home with the Canucks in April of 2014, when he was in a 4/6 Cycle Year. Numerologically speaking, this was not the most propitious beginning for a new project, since it was a Test year. The 4/6 cycle vibration is not typically friendly to expansion or to making oneself understood.
But thankfully, that vibration is gone now, and there is nothing to hold Trevor back. His new cycle, the effects of which he began to feel as early as September 2014, is going to be flexible, imaginative, and somewhat unpredictable, but full of freedom to create whatever he can dream up.
Jim Benning's Numerological Year: 2015
Jim Benning, the Canucks current General Manager, is positioned right alongside Linden. He and Trevor share exactly the same cycle pattern. Jim was born on April 29, 1963 and although he is not the same Life Path as Trevor Linden—he is a 7 Life Path person—he is also in an expansive and imaginative 5/7 Cycle Year.
They are cycle twins!
It is believed in numerology that people who share the same cycle pattern can understand each other, because they share the same feelings at the same time. This bodes well for Canucks fans.
Willy Desjardins' 2015
Willy Desjardins, the Canucks head coach, was born February 11, 1957. He is an 8 Life Path person under the influence of 11. He is naturally "the boss." This year he is in a 3/5 Cycle Year.
It's going to be an exciting year for all three men, since they all share the exciting and complicated, and unpredictable 5 Cycle vibration, under which anything can happen.
I for one will be cheering them on.