Katy Perry: The Numbers Didn't Help That Performance at Super Bowl 2015
Submitted by

Cassandra MacLeane

on Wed, 2015-02-04 17:15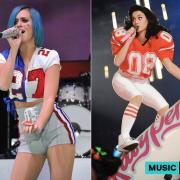 Katy Perry is a 3 life path person under the influence of 7. This life path is extremely creative, and unusually talented.
I'm sure many would agree this is usually true of celebrity pop singer Katy Perry ... with the exception of her performance in the halftime show of Super Bowl 2015.
From a numerology perspective, Katy is in a 7/5 cycle year: not a good vibration for performances in huge venues. If I were Katy Perry's numerologist, I would have suggested this year she spend a great deal of time writing, studying music and doing therapy. This cycle vibration was bound to be problematic for a performance like the Super Bowl.
She may be considering therapy, out of necessity, following all the criticism of her recent performance.
Now – I have to admit I'm not a football fan. I watched her performance on YouTube, afterward. And I'm sure it was diminished by the miniaturization. Still, there was no doubt in my mind that she felt uncomfortable and perhaps out of place. Her movements were stiff and awkward and even her attempt at twerking was, at best, unconvincing.
There's no doubt in my mind that someone, somewhere, is having a long and possibly difficult conversation with the person who choreographed that performance.