A Master Number Family: Robert and Susan Downey Welcome Avri, a '22'
Submitted by

Cassandra MacLeane

on Wed, 2014-11-26 14:09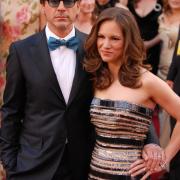 Susan and Robert Downey have welcomed another Master Number person into their family.
Avri Roel Downey is a Master Number 22 Life Path child (born November 4, 2014). Robert Downey, Jr. is also a Master Number: his Life Path is 11 (born April 4, 1965). And Susan Downey is a 1 Life Path person (born November 6, 1973).
22 Life Path children are born less frequently than other people. There are more children born with a 22 influence on their Life Path than there are actual pure 22s.
When a 22 Life Path does come into the world, we know that a larger-than-life soul has come to the planet. These are Master Number people, expected to be master builders, and larger-than-life in their expression. Richard Branson is a good example of a 22 in action.
What's In A Name? Numbers.
Little Avri has been given a very complex and interesting name to go with his unusual Life Path.
When the first, middle and last name (Avri Roel Downey) are added together and reduced to the Destiny Number (6) there is a good balance, according to numerology. This is certainly something that will balance the exuberance of the Life Path 22.
If the child, however, is called by only his first and last name, the total is a 1 Destiny Number. This is not such a good balance.
The Year Ahead for the Downeys
Robert Downey himself is in an excellent year for bringing a new little Downey into the world.
His cycle this year 6/1. This is the beginning of a new cycle for Robert Downey.
Robert Downey insists that his partner Susan (born November 6, 1973) is responsible for his new, clean and well-balanced lifestyle, and for helping him deal with his addiction issues.
Susan is a 1 Life Path person under the influence of 6. They are a very compatible vibration.
Susan, however, is in a 6/3 year in this coming year. This may mean that there will be issues around family harmony for her to face.
Let's hope for the sake of the new little 22 soul, and for the sake of the whole family, that they are able to continue in their harmonious family life far into the future.